HELPING PHYSICIANS 
TREAT THE RIGHT PATIENT
ViTAA RAW Maps consists of a variety of maps that give a functional and
structural assessment of the aneurysm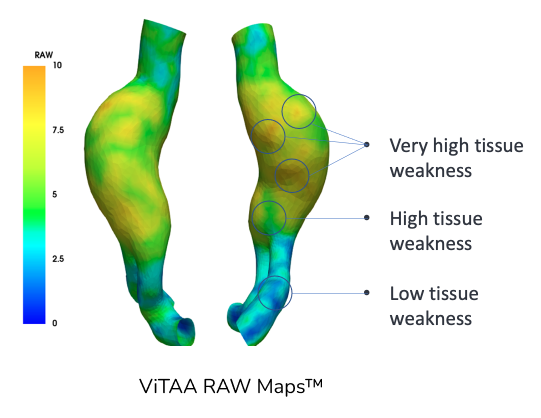 ViTAA's RAW™ (Regional Areas of Weakness) Map technology can analyze the deformation of the aorta wall using images captured throughout the cardiac cycle.
Then, by incorporating critical simulation data on blood flow and location and size of clots (ILT or intraluminal thrombus) within the aneurysm, ViTAA's algorithms compute and generate detailed vulnerability maps of the abdominal aortic aneurysm.
The technology is available as part of the ViTAA Registry which has been launched in 8 North American sites. Further access to the technology will also be possible through ViTAA's Research Use Only Program, which was initiated in late 2022.
By providing this critical information, researchers can better evaluate AAA disease progression and identify risk areas of critical weakening where there may be risk of future growth.
If you have any questions or comments, please contact us via email or send us a message using the contact form.